Just came back from Amsterdam and as the whole event was in english and my notes too, this blogpost will be an english one as well.
AtlasCamp is a yearly event which is organized since 2009 from Atlassian for Plugin Developers to give them insights in the product APIs, inform about new features and of course get to know each other. After 3 years of coding in California, last year was the first event in Europe (Wiesbaden/Germany) and this year in Amsterdam.
For the first time there was a ShipIt-Hackathon on the first day of the AtlasCamp at the Atlassian Amsterdam Office. Around 20 Plugin Developers were participating and competing for the best plugin shipped during one day. Most of them were fulltime plugin developers, who came with 2-4 people from the same company and had specific ideas for a plugin, for example a new feature for their already existing plugins, as the gliffy-team did, who also won the contest with a great performance at the end. It was quite difficult as a beginner to get involved, because teams were already formed by the people who came together and no introduction talks or tutorials were given. Thats why there was not much to do for me as a newbee who coded her first HelloWorld-Plugin a couple of days ago. But still i got some insider hints about where the flaws of the API can be found 🙂
The next two days were full of interesting talks about new features at atlassian and also very interesting live demonstrations in plugin coding, so on the third day I would have been ready to really try out what I´ve learned. I guess I will do so soon.
There were around 150 Plugin Developers from all over the world participating at AtlasCamp. They were showing a map at the beginning of the conference, which showed that Germany was with 37 participants by far the biggest group. Only 8 came from the netherlands as the guest country, and next were 6 from sweden, italy and another country which i just forgot. I met people from Belgium, 1 guy from Malaysia, some from Russia and many from the westcoast of the US (mainly San Francisco Atlassian Office). But also the polish community was represented by 6 people, which my polish collegue found out the next day. Atlassian itself came with around 30 people to the event.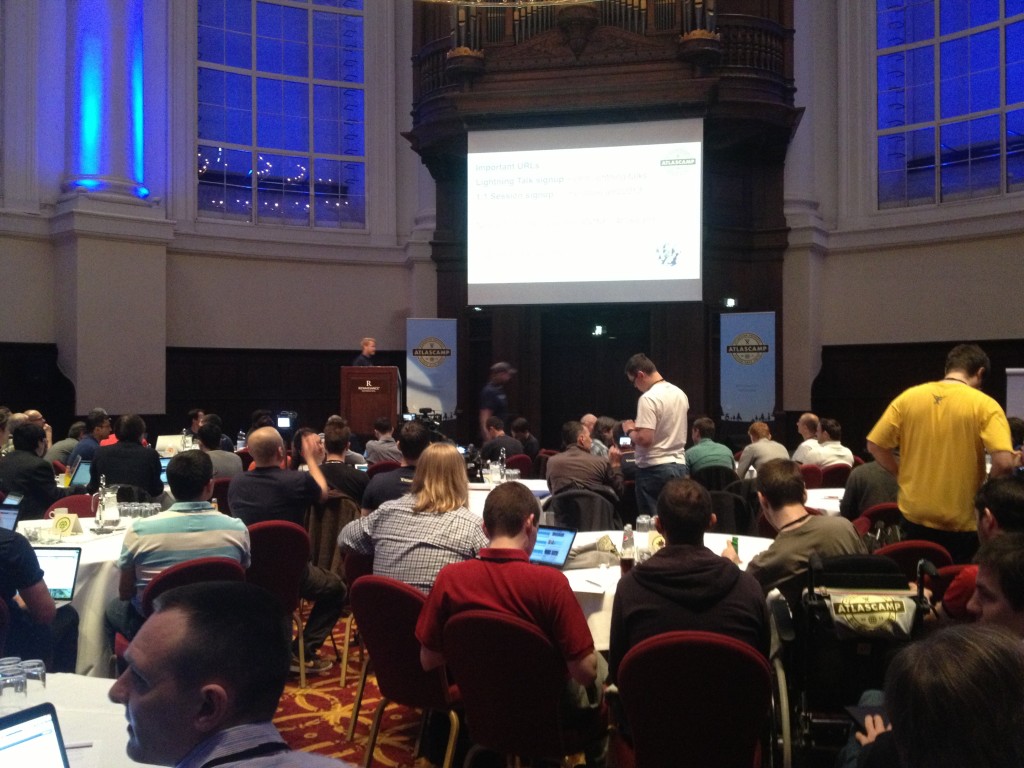 For those who didn´t make it to the camp but are still interested in what its all about, I made a lot of notes and will present it to you in the following. Its a lot to read, but you can also pick the talks that you are interested in. Maybe Atlassian will also publish some of the slides later on. If so, I will collect the links in the link section below.
It has been an awesome location in the koepelkerk at the Renaissance hotel in Amsterdam. An old church with a huge organ, a big dome and a lot of atmosphere. And of course Amsterdam is beautiful too.